Brunch is a staple here in Wisconsin, especially on the weekends. Who doesn't love getting together with friends and family to enjoy mimosas and bloody marys while eating delicious French toast or eggs benedict? (I'm getting hungry just thinking about it.) Here in the Town of Brookfield several of our restaurants pride themselves on their brunch selections. Whether you're looking for a classic American omelette or you want to try something from a little farther away like a quiche Lorraine, you're sure to find it here. Let's take a look at the best brunch places in the Town of Brookfield.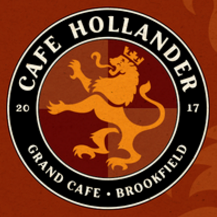 Café Hollander is our first stop. Located at The Corners of Brookfield, this restaurant is a great place for brunch especially in the summertime. Take a break with your besties and sit out on their outside patio overlooking The Corners and Bluemound Road. Their award winning bloody marys are made from scratch and with four on the menu, everyone is sure to find one they'll enjoy.
A few words directly from Café Hollander:
Café Hollander is a European-inspired grand café that features breakfast, lunch, dinner, weekend brunch & an amazing selection of craft and Belgian biers.
Pretzel Breakfast Sammy – Shaved ham, bacon, Muenster, herb garlic cheese, scrambled eggs, toasted pretzel bun, and side breakfast potatoes. + Berry Blast 'Mosa – New Amsterdam Berry vodka, bubbles, and pineapple juice.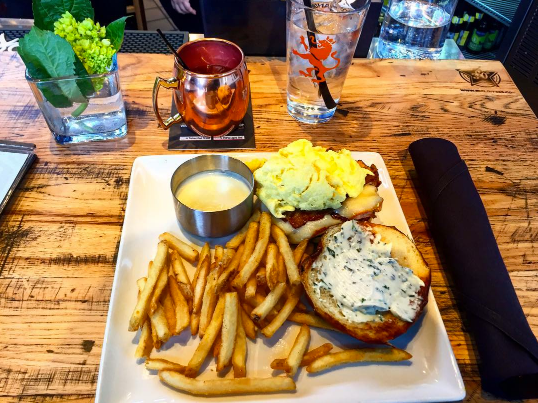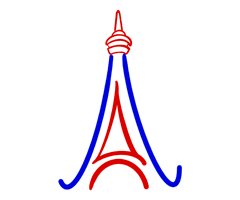 Second stop on our brunch list is Fresh Baked Café which is located at Galleria West right off Bluemound Road. Remember that quiche Lorraine I was talking about above? You'll find it here and it is sure to be just like the ones from France. Fresh Baked Café makes all their bread and pastries from scratch. They are known for their flakey and buttery French croissants that are sure to melt in your mouth.
A few words directly from Fresh Baked Café:
Fresh Baked is a family-owned business that strives to bring the authentic European Cafe experience to the downtown Oconomowoc, Brookfield, and Elm Grove communities.
We use only top local ingredients available to us, to give you the very best taste we can. Fresh Baked has a unique menu with staple items that are available everyday as well as new creations that change regularly.
Our ingredients are sourced locally and aim to partner with businesses in the community.
Vanilla Pastry Cream with Fresh Fruit + White Chocolate Mocha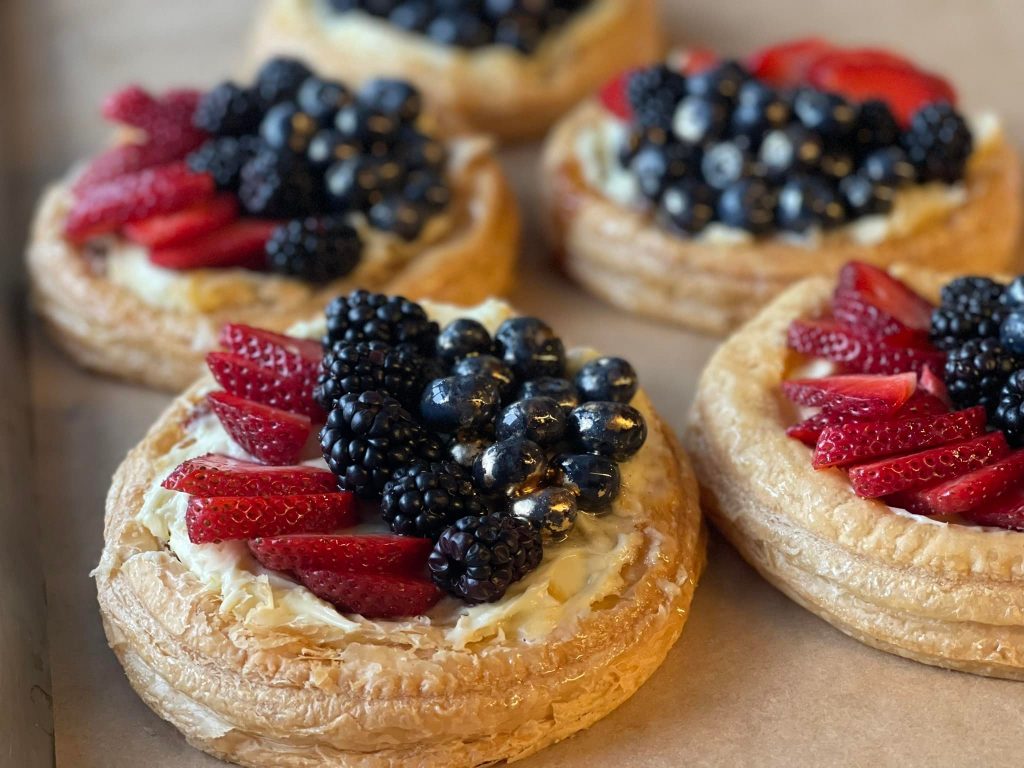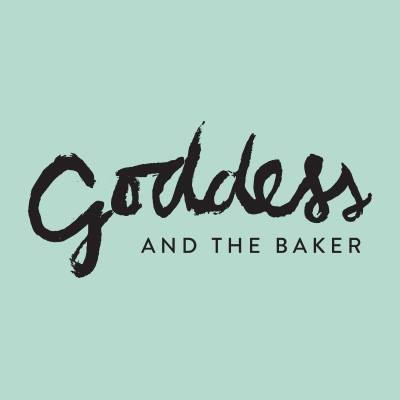 Our third stop on the hunt for the best brunch places in the Town of Brookfield is Goddess and the Baker! Goddess and the Baker is located at The Corners of Brookfield is not your typical brunch spot. Think fun, vibrant and fast-casual mixed with unique food offerings and some of the best coffee around. It is truly a unique experience at Goddess and the Baker.
A few words directly from Goddess & The Baker:
Goddess and the Baker is a spin-off concept of the ultra-successful Goddess and the Grocer restaurants, which opened its first store in 2004. From the very start, the colorful Bucktown storefront was bustling with high energy and bold flavors.
In 2015, the idea to open the cafe-inspired spin-off was born out of our love for good coffee, good baked goods, and great food. We set out to create a warm and inviting meeting place where guests could enjoy a good coffee, sandwich (or salad), and dessert then leave with a smile on their face.
LEO Omelette – Fluffy egg omelette with Lox, Eggs, and caramelized Onions, topped with sour cream and fresh dill. + Glitter Latte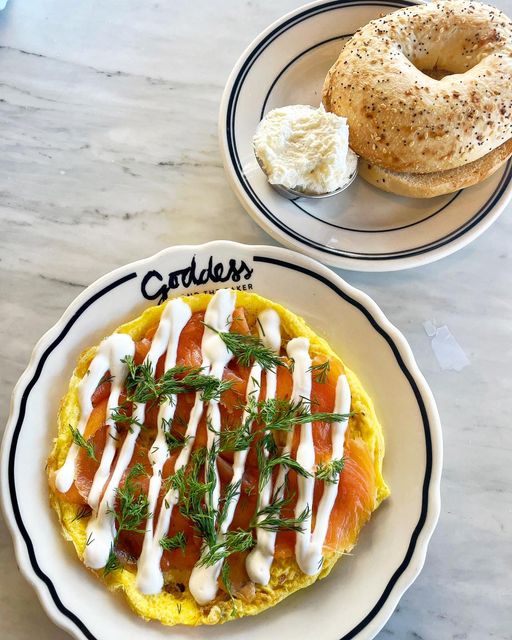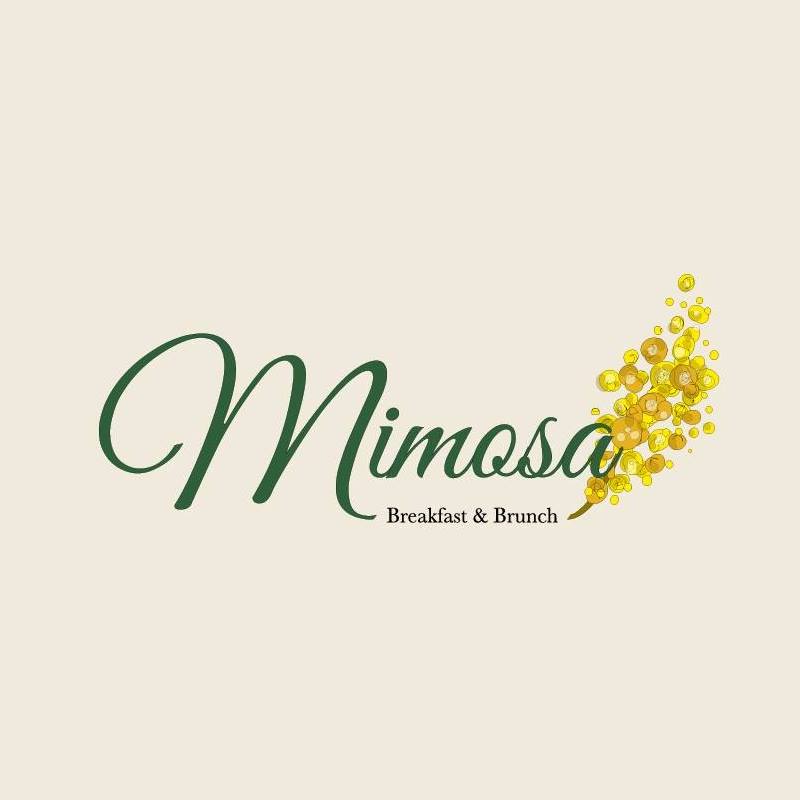 Last but certainly not least, is Mimosa. Mimosa has been voted Milwaukee's best brunch stop for several years now and we can see why. They take traditional brunch and give it a unique twist. Their Blueberry Omelette is one of the best examples. They pride themselves on making their guests feel welcome and delivering the best food possible. Mimosa only uses fresh, local ingredients and always offers fresh squeezed orange juice (with and without a little bubbly).
A few words directly from Mimosa:
Mimosa is the newest breakfast and brunch spot in Brookfield and Franklin that is taking your favorites and serving them with a twist. Our unique menu offers delightful flavor from breakfast classics to sandwiches and soups. Our cage free eggs are locally sourced, and we are proudly serving local, organic, Fair Trade, Colectivo coffee. Don't forget to try our fresh squeezed juice and, of course, mimosas. You won't want to start your morning without us.
Fresh Fruit Blintzes – filled with cream filling and topped with fresh berries and housemade granola. + Traditional Mimosa
Fun Fact: Mimosa is not named after the delicious drink.