4+ Can't-Miss Events This Year
The Town of Brookfield is known for its unique shopping destinations and great places to eat, but did you know the Town is home to a variety of festivals throughout the year? The Town takes on a new sense of the word community when it comes to the events you can find here. Are you looking for a way to try local foods and new craft beers? Has your little one always dreamed of sitting in a fire truck? Have you been searching for the perfect picture for over the fireplace? We have an event for everyone in the family (pups included) and we welcome you to experience them all! These are our can't-miss events in the Town of Brookfield.
Discover Brookfield partners with The Corners of Brookfield on this fantastic event every year. This event series takes place on the third Wednesday night of each month, May – September. You'll find live music, family friendly activities and of course, food trucks! The food trucks we bring in are local vendors from around the Milwaukee, Waukesha area. There are an average of about 12-15 vendors who offer all kinds of food; tacos, hamburgers, cheese curds, ice cream, bundt cakes, and everything in between. You definitely won't leave hungry! The Brookfield Chamber serves local craft beer as well. It's the perfect way to get out on a summer night and enjoy the Town of Brookfield.
2022 was the inaugural year of our Arts, Crafts & Drafts Art Festival here in the Town of Brookfield. The event is the second weekend of June at The Corners of Brookfield. The festival will highlight over 75 local artists who offer everything from clothes, candles, home décor, jewelry, works of art and more. (We all have that one wall in the house that's missing something, right?) In addition to the local artists, you will be able to enjoy live music from local musicians, craft beer from local breweries and unique food from local food vendors. Kids will be able to make Father's Day crafts for dad and play games in Market Square. Please join us for an artsy weekend here in the Town of Brookfield.
This is the first year for The Town's Longest Table! We're so excited to bring in this new event for the community. You and 149 of your closest friends will get a seat at the table where Town Restaurants will treat you to a 5-course meal. Complete with soup, appetizer, salad, entrée and (of-course) dessert. The event will be held outside at Galleria West Shopping Center. This is the perfect date night or girls' night out. You'll even get to try samplings of beer and wine from the restaurants. Sorry kids, adults only (21+). Tickets are available now so go and get your seat today! Those tickets will be gone fast. Cheers! 
This event holds a very special place in our hearts because at its core, this event is a fundraiser for our furends friends at the Elmbrook Humane Society! This family friendly 5K run/walk is pet friendly. You can bring your own dog to run or walk with and then you can visit with dogs at the end of the race. The event starts and finishes at Elmbrook Church in the Town of Brookfield and while running (or walking) the race, participants venture through the streets of the Town. It gives guests the opportunity to view the Town from a unique perspective. All proceeds of the event are then donated to the Elmbrook Humane Society. The event is always the 3rd Saturday in September. Make sure you mark your calendars and sign up for this one early!
This is Sulley's favorite event of the year!
Prost! Cheers! Welcome to Oktoberfest here in the Town of Brookfield! This event offers a unique, Brookfield twist on the traditional Oktoberfest held in Munich, Germany. This family friendly festival is held on a Saturday at the beginning of October every year. Throughout the day you can dance the traditional polka with local polka bands and then you can end the night dancing with an 80's cover band. Not a dancer? No worries, you can participate in a variety of classic Oktoberfest competitions like a best dressed contest, a beer stein holding contest, or bring your pups and have them run in our Dachshund races! The Brookfield Chamber serves local craft beer, and we have a local non-profit who serves brats and hotdogs. Stop by Stefans Soccer in Brookfield for a fun day of German celebration!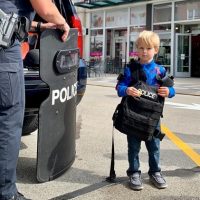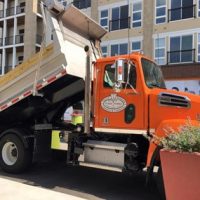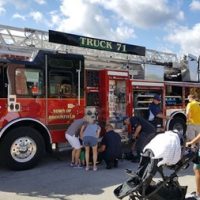 Think back to when you were little. Did you ever dream of sitting in a fire truck? How about a dump truck or ambulance? Do your kiddos have the same dream? If you answered yes, make sure you check out Town Truck Day at The Corners of Brookfield! Every September, The Corners and the Town of Brookfield bring in all the large Town Trucks for families to sit in and view. Guests can even talk with local authorities like police officers, EMTs, garbage collectors, fire fighters and more! This is one of the biggest events of the year so don't miss it!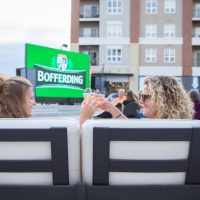 6. Beer Garden in the Square
Looking for a more laid-back event in the Town of Brookfield? Spend some time at the beer garden at The Corners of Brookfield. Grab a local craft beer and then sit back and relax while you listen to some live music in Market Square. This series is every Thursday night June – August and features a variety of local musicians. We'll see you there!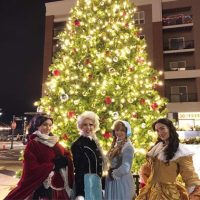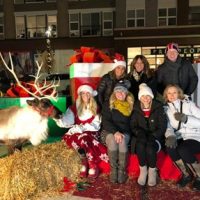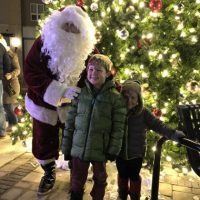 What better way to start the holiday season than with a traditional tree lighting?! Every year the Town of Brookfield partners with The Corners of Brookfield to have a classic tree lighting ceremony in Market Square. Guests can listen to carolers, visit with Santa, drink hot cocoa, and of course, watch the tree lighting! This is a great family friendly event.